Golfers Elbow Brisbane – If you are suffering from a sharp pain in your elbow you may have Golfer's Elbow (Medial Epicondylalgia). This is a common RSI (repetitive strain injury) to the muscles that flex the wrist and fingers called a tendinopathy. People with Golfer's Elbow symptoms usually Google "sharp pain in elbow" or "inner elbow pain".
Knead Myotherapy provide a rapid resolution of stubborn elbow pain with our expert Golfer's elbow treatment..
Our experienced Myotherapists won't just treat your symptoms – they'll show you how to quickly overcome the causes of golfer's elbow.
Don't waste money on ineffective treatments – hit the book now button to rapidly resolve your golfer's elbow.
Golfer's Elbow Brisbane – What shouldn't you do?
Golfer's elbow pain should resolve by itself over 18-24 months.
Golfer's elbow pain can be rapidly resolved with manual therapy, low level laser and specific golfer's elbow exercises.
Don't waste money masking symptoms with cortisone (which makes golfer's elbow last longer) or ineffective clinicians – get expert treatment to help resolve golfer's elbow in weeks – not months.
Results matter – book your EXPERT Myotherapy consultation now.
What's Golfer's elbow?
Golfer's elbow is a common RSI (repetitive strain injury) to the muscles that flex the wrist and fingers called a tendinopathy
The injury and pain occurs on the bony prominence (Medial Epicondyle) on the inside of the elbow where the forearm muscles attach and suffer small tears.
The collagen fibres of the tendon become suffer small tears after an initial "overload moment" and this begins a process of increasing irritability. 
Golfer's Elbow usually starts by performing an unaccustomed repetitive task. 
Where does Golfer's elbow hurt?
Typically – Golfer's Elbow causes pain on the inside of the elbow joint and forearm when performing gripping tasks, or resisting wrist/finger flexion.
Pain may be gradual or occur after a single unfamiliar physical activity.
Pain usually occurs when the muscles are stretched – extending the fingers and wrist.
The sharp pain in elbow, is felt at the anchor point of the muscles – the tendon -which attaches to the bony part of the elbow.
Usually there will also be tender spots in the central part of the muscle in the flexor muscles and triceps.
It is not uncommon for people with Golfers Elbow symptoms to have neck pain and tenderness – as well as irritation of the median nerve of the forearm.
Nerve pain may occur (shooting pain) in instances of golfer's elbow with neck involvement
Book your Myotherapy Treatment
What should you do about Golfer's elbow?
Stop or reduce the irritating task
Studies have shown that manual therapy and exercise combined with dry needling has improved outcomes for individuals with golfer's elbow.
Studies have shown a marked increase in pain free grip strength tasks in individuals with golfer's elbow receiving low and high powered laser treatments.
Ergonomics adjustments (especially if computer use is a factor)
The best method for desensitizing and re-strengthening the sensitive elbow tendon is with specific golfer's elbow exercises. Your Myotherapist will show you how to perform these elbow exercises, while also providing videos of the exercises and written instructions with diagrams.
How to fix Golfer's elbow fast?
Golfer's Elbow Assessment by a qualified Myotherapist  is simple and pain free.
Myotherapy has been shown to be effective in the management and recovery of Golfer's elbow and inner elbow pain by:
Reducing pain and sensitivity.
Strengthening the tissues.
Improving the range of motion and function of the elbow.
Reduction of neck impingement that is masking as or exacerbating Golfer's Elbow symptoms.
Restoring confidence in the challenged joint.
How will a Myotherapist perform Golfer's Elbow therapy?
At Knead Myotherapy we will ascertain the source of your pain and use tests to rule out other problems. For pain relief we will use:
Deep tissue massage
Specific golfer's elbow exercises
Ergonomics advice
Joint mobilisations
Soft tissue work such as deep tissue massage and cupping
Tendinitis treatment Brisbane – we have great weather for sports all year round – so we see loads of tendon irritation here at Knead Massage. 
Read More »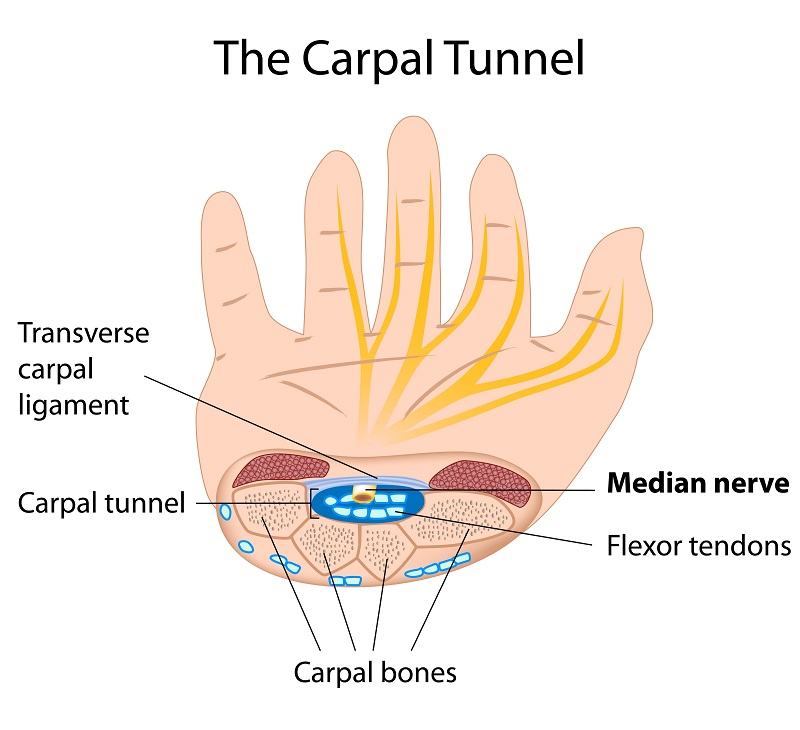 Carpal Tunnel Syndrome is a debilitating RSI (nerve entrapment) of the arm. It is the most diagnosed neuropathy of the upper body. Work tasks and
Read More »
Neck pain can be triggered by many things. It's important to consult with a qualified Myotherapist, Remedial Massage Therapist or a GP to get an accurate assessment of what the underlying cause is.
Read More »
Frequently Asked Questions (FAQs)