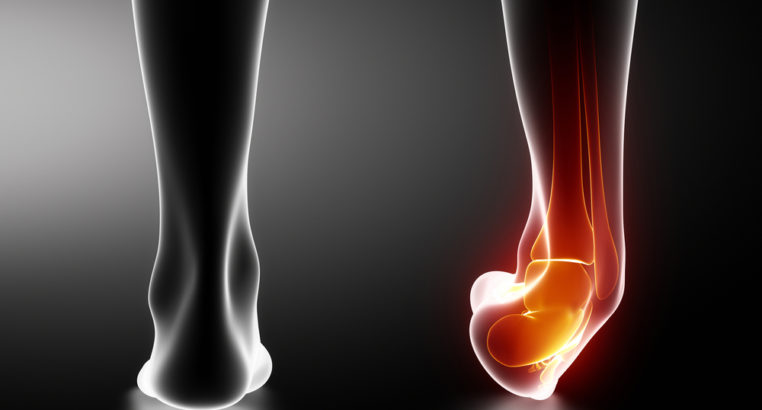 Written by Roger Morelli, Myotherapist
Are you suffering from Heel Pain?
Looking for a plantar fasciitis remedy in Brisbane? WE can help.
Plantar Fasciitis (also known as Plantar Fasciopathy) is an overuse injury caused by continual overstretching of the Plantar Fascia – a tendonous attachment beneath the foot.
Plantar Fascia pain is caused by micro tearing of the tendon at the heel  – this is known as a tendinopathy. This deterioration in the tendon is the reason why people often "woke up with foot pain" or have "heel pain".
People at risk of Plantar Fasciitis tend to be on their feet a lot – school teachers, runners, nurses, hospitality workers and those with a few extra kilos. 
Plantar Fasciitis is usually noticeable on the first few steps after rest or being seated.  The pain is frequently described as "like walking on broken glass" – especially in the morning.
Treating Plantar Fasciitis – what can I do to make it better?
Inappropriate footwear (in Brisbane, lots of people Google Plantar Fasciitis Sandals) and muscle tightness is the primary plantar fasciitis cause and will lead to worsening symptoms. An excellent plantar fasciitis remedy is corrective exercises. 
Exercises for Plantar Fasciitis – also known as corrective exercises  are the best way to calm most early and intermediate Plantar Fasciopathies.
Calming down an early to moderate Plantar Fasciitis is a role your Myotherapist is perfectly suited to.  They will use a combination of Remedial massage, Cold Laser Therapy and Dry Needling  for muscular relief and plantar fasciitis exercises to strengthen the region.  This is a cheap, non-invasive and time efficient plantar fasciitis remedy.
Dry needling and electro-tens therapy can provide short term relief of plantar fascia pain – allowing people to perform their Plantar Fasciitis exercises with confidence.
In severe cases, your Myotherapist will refer you to our clinical colleagues at My Foot Dr – Mary Street, Brisbane  –  who can perform a full assessment of the foot and leg, leading to optimal choices of footwear and orthotics.  In severe cases of Plantar Fasciitis – particularly where excess weight is a contributing factor – Plantar Fasciitis Orthotics are required.  It is essential that you consult with an expert Podiatrist and Myotherapist before considering invasive plantar fasciitis surgery.
Severe cases of Plantar Fasciitis may also warrant the use of Shockwave therapy – a high frequency form of ultrasound.  Shockwave is good at reducing Plantar Fasciitis pain for a number of months, but the treatment itself is painful.  MyFootDr are experts with
Shockwave technology for the lower limb.  Shockwave therapy and plantar fasciitis shoe inserts – are excellent tools in the extreme plantar fasciitis remedies.
How long will it take Plantar Fasciitis to get better?
Recent onset Plantar Fasciitis will typically respond to 3 or 4 myotherapy treatments provided the individual is performing their Plantar Fasciitis Exercises and calf stretches.  Stretching the calves is far more effective for long term improvement than out of date plantar fasciitis stretching exercises.  Massage and stretching the plantar fascia itself – may provide momentary relief, but only makes the problem worse.
More established Plantar Fasciitis – where weight is a contributing factor , may take approximately 8 weekly treatments if the individual is performing their exercises.  Plantar fasciitis shoe inserts will quickly take the heel pain from severe to manageable.
Dry Needling (Myotherapy treatments) and plantar fasciitis orthotics (Podiatry) will shorten the length of time required to restore pain free function.
What happens if don't do anything about it?
Long term Plantar Fasciitis can "bleed" a deposit of calcium on the heel.  This deposit of calcium leads to the formation of a bony prominence known as a heel spur.  Heel spurs are incredibly painful to weight bear on, as they are bone growths in locations they shouldn't be.  For this reason – rapid Myotherapy treatment and diagnosis are preferable.  Heel spurs will always require Plantar Fasciitis Shoe Inserts and Podiatry to provide a complete plantar fasciitis remedy.
Links
www.myfootdr.com.au/conditions-treated/heel-pain/
https://www.myfootdr.com.au/conditions-treated/the-truth-about-heel-pain/
https://www.myfootdr.com.au/2018/07/5-tips-to-treat-heel-pain/
https://www.myfootdr.com.au/2017/06/is-foot-pain-stopping-you-from-running/
https://www.physio-pedia.com/Plantarfasciitis
http://www.latrobe.edu.au/research/research-impacts/researchers/videos/plantar-heel-pain-or-pain-underneath-the-heel
http://www.bbc.co.uk/programmes/articles/1XFbg9kF6dsqGk62g3YgrmG/are-my-shoes-damaging-my-body
References
https://www.ncbi.nlm.nih.gov/pubmed/25145882
http://blogs.bmj.com/bjsm/2014/09/15/plantar-fasciitis-important-new-research-by-michael-rathleff/
https://www.researchgate.net/publication/264936255_High-load_strength_training_improves_outcome_in_patients_with_plantar_fasciitis_A_randomized_controlled_trial_with_12-month_follow-up_HL_strength_training_and_plantar_fasciitis
https://www.ncbi.nlm.nih.gov/pmc/articles/PMC3951039/